---
Sanitising Products
Promote good hygiene practices and protect your staff, customers and visitors.
Call us to place your order.
0161 832 9775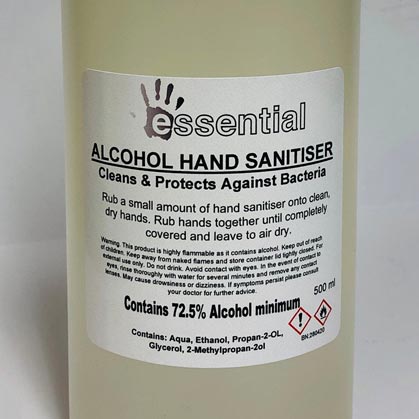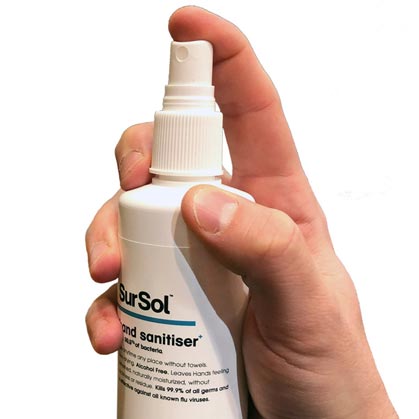 Sanitising Products
Alcohol hand-sanitiser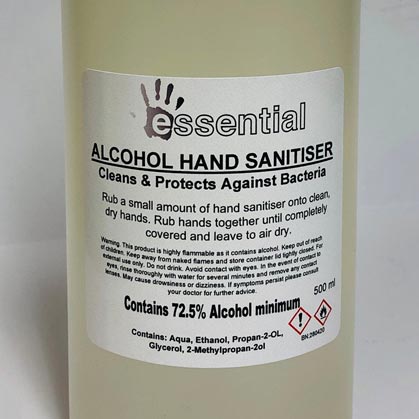 Prevent the spread of bacteria and infections with Essential Alcohol Hand Sanitiser, an alcohol based (minimum 72.5% alcohol content) instant hand sanitiser gel.
Effective and easy to use, Essential Alcohol Hand Sanitiser can be applied to clean, dry hands to help protect from germs. Ideally placed in receptions or entrances, Essential Alcohol Hand Sanitiser, is perfect for ensuring your high levels of hygiene are maintained.
| | | |
| --- | --- | --- |
| 1 box (20) | 500ml | £200 +VAT |
| 2 boxes (40) | 500ml | £369 +VAT |
| 3 boxes (60) | 500ml | £534 +VAT |
Alcohol-free hand-sanitiser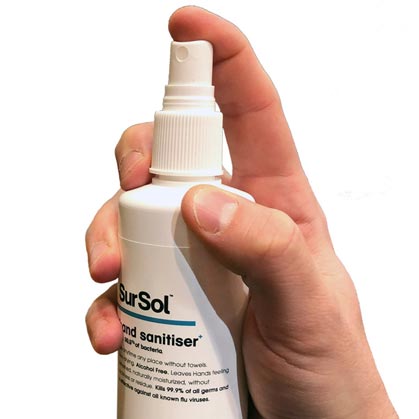 SurSol is the long-lasting, alcohol-free hand sanitiser spray that effectively kills 99.8% of all germs and known flu viruses.
Powerful hand sanitiser that is scientifically proven to kill 99.8% of germs and all known flu viruses
Paraben, fragrance and alcohol-free: Safe and gentle for children and those with sensitive skin yet scientifically proven to be powerful at killing germs and viruses
The virus killing, water-based formula is cruelty-free, vegan-friendly and works within 15 seconds and it contains Aloe Vera and Chamomile, which moisturises while sanitising
Kills germs and protects you and your family – actively killing germs for up to 4 hours
Independently tested and proven to kill swine flu, winter flu, bird flu, MRSA, SARS and Norovirus
Suitable for use on the whole family and anyone with sensitive skin, this powerful, water-based spray is alcohol-free yet kills germs and bacteria within seconds. Any bacteria that comes into contact with the skin within four hours of use will also be eradicated. Formulated with active ingredients that comply with the EN 1276 and EN 14476 testing standards, SurSol Alcohol-Free Hand Sanitiser Spray is a powerful formulation designed to eliminate 99.8% of bacteria and viruses. It is vegan-friendly and certified cruelty-free so not only can you help to prevent the spread of illness and protect yourself and your family; you can do so with a clear conscience.
| | | |
| --- | --- | --- |
| 1 box (48) | 250ml | £292 +VAT |
| 2 boxes (96) | 250ml | £562 +VAT |
| 3 boxes (144) | 250ml | £812 +VAT |
Disinfectant Sanitiser Aerosol Spray
Ramsol Disinfectant Aerosol contains active biocides and is specifically designed for the cleansing and disinfecting of hard and soft surfaces as well as being tested and proven for use on skin.
The Ramsol sanitiser spray is a revolutionary mist spray with fogging technology designed to sanitise and disinfect difficult to reach and intricate areas with full surface coverage.
This product is fast and effective at dealing with an extensive list of bacteria, viruses, fungi and moulds as well as Coronavirus and Type A Influenza viruses such as Swine Flu, Chinese and Japanese Flu strains and SARS.
| | | |
| --- | --- | --- |
| 1 box (12) | 500ml | £140 +VAT |
| 2 boxes (24) | 500ml | £268 +VAT |
| 3 boxes (36) | 500ml | £387 +VAT |
PDC Manchester, 129 Oldham Street, Northern Quarter, Manchester M4 1LN
Tel :
0161 832 9775